Shriners Hospital for Children
A Child in need of the Shrine?
Applying for Care. The road to recovery begins here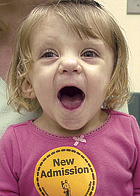 Shriners Hospitals for Children is committed to helping children with orthopedic problems, burns, spinal cord injuries and certain other health conditions, to lead fuller, more productive lives.
If you have or know of a child we can help, please have the family fill out one of our patient applications and mail it to the nearest Shriners Hospital for Children.
If you have any questions about the applications, please call our patient referral line at 1-800-237-5055 (in Canada, please call 1-800-361-7256).